The Oyo State Government of Nigeria, has paid a scheduled project inspection tour to Rayfield Gardens City Estate, Christopher Adebayo Alao Akala GRA Wofun Akobo Extension by Iwo Road Ibadan, Oyo State Capital on Tuesday Afternoon, September 5th, 2023.
Rayfield Gardens City Estate, Christopher Adebayo Alao Akala GRA, is one of the ongoing GRAs, the administration of Governor Seyi Makinde is opening up in his bid to provide modern and decent housing for the good people of Oyo State.
The high powered government delegations was led by the Director General of the Oyo State Investment and Public Private Partnership Agency (OYSIPA), Mr Olatilewa Folami.
Recall that the State Government recently entered into a Public Private Partnership (PPP) deal with Fendini Limited on the provision of about 400 housing units for the people.
The delegations were received by the GMD/CEO of Fendini Group, Prince Laja Adeoye, who took OYSIPA DG, other top ranking directors including Mr Kunle Olusina and Staff of the Agency on a tour of the Estate.
Physical developments met at the Estate, includes but not limited to the two magnificent Estate Gate houses, green garden lawn which is fully electrified, Estate Perimeter fence, Installed solar powered street lights on the main entrance dual carriage roads, paved roads with quality paving Stones, drainages to enhance water flows, a number of Bungalow and Duplexes under construction, while electricity installation, and water plant are underway.
Earlier, the company told their subscribers that, the Estate will be powered majorly by Grid and Solar energy, which according to them is more efficient due to its renewable ability, in order to achieve constant electricity, zero noise, less carbon emission and pollution as a result of generators.
Fendini CEO explained further that, Rayfield Gardens City Estate was planned to be first of it kind in Oyo State, because of the modern Infrastructures the residents will enjoy. He avers that apart from the quality roads they are constructing, there will be central treated water port, which will be piped to every home within the Estate.
He said, all the house types in the Estate, be it Bungalow, Duplex or Terrace are all modern and contemporary state of the art buildings with smart home automation technology.
For Instance, we are building some special high end type of duplexes in the Estate called "The Essence" which will have Private Elevator, Rooftop Terrace, Suspended Swimming Pool, Amazon Alexa, Google Home and Apple HomeKit smart home control System, Private Cinema, lush green areas, Bulletproof doors, Security control system for all Ensuite rooms, Bluetooth music system, gym and so much more. These are the type of houses the Estate will have, calling on subscribers and investors to key into the project at this off-plan sales stage.
Let me also use this opportunity to inform our subscribers that we are building a software application that will allow them to manage all their utilities such as treated water, electricity, mobile phone cards, Internet connection, check weather and traffic report around the city, and etc. This is to make life very easier for all residents and through the app, residents can also make enquiries or complain to the facility management office without stepping out of their homes.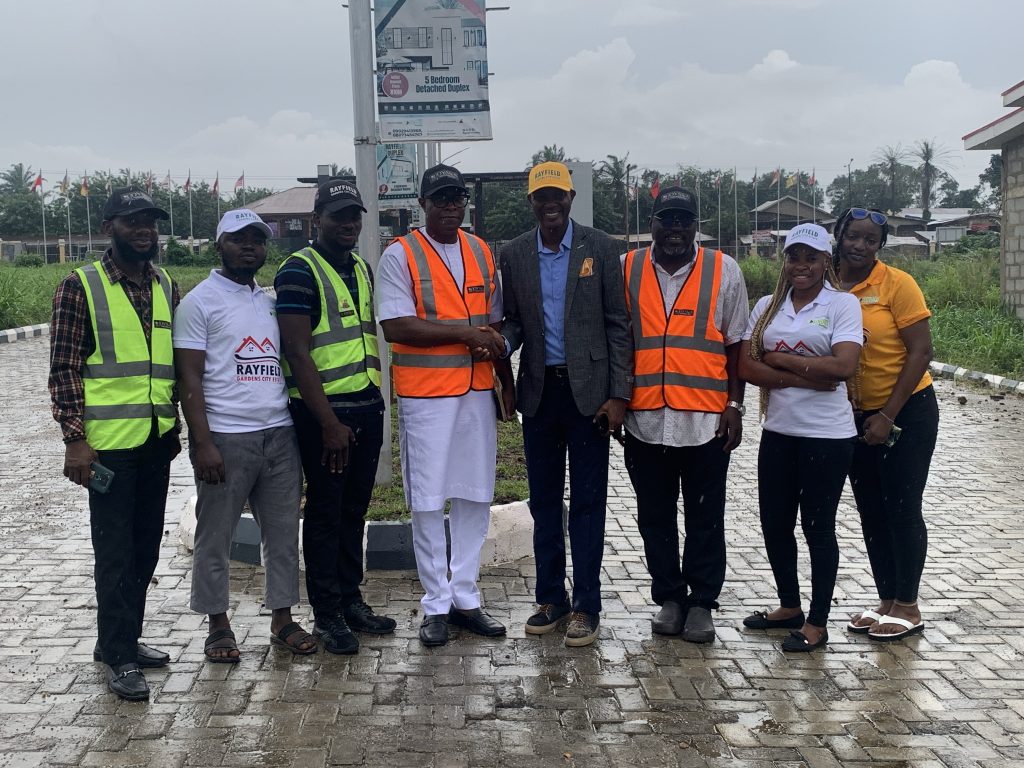 Our focus is to deliver an Estate community that can rival any other across the world. So, we are painstakingly implementing our plans one after the other, and it will be done within a good time frame.
Apart from the residential development, we also have commercial wing of the Estate for School, Amusement Park, Office Complex, Hotel, Event Center, and Hospital/Pharmacy Store, which will be handled by interested Investors.
We are super excited that our subscribers are in sync with the quality we are proposing to offer them. This is seen in their commendations over the quality of the ongoing infrastructures they meet each time they come to the project site. Like the Oliver twist, we will always strive to do more and be better at every point through out the life of the project.
Laja appreciated the government delegations for finding time to visit and noted that, Oyo State has become a choice destination for home buyers because of the economy expansion leading to sustainable development being done by the State Government led by Engr Seyi Makinde, who is building infrastructures in every nooks and crannies of the State.
He stated further that, subscribers to Rayfield Gardens City Estate will benefit immensely as the government is already fixing the Iwo-Osogbo road that passes in front of the Estate, and that will be immediate catalyst for economic development in the axis.
OYSIPA Director General, Mr Olatilewa Folami commended the project that the level of infrastructures in the Estate is very encouraging. The ease of doing business in OYSIPA, as instituted by the governor is giving more investors and entrepreneurs the confidence to come to Oyo State as a very fertile and good place to do business.
Fendini Group express readiness to work with Oyo State Government and others in provision of more housing projects, targeting 5,000 housing units for the benefit of the good people of Nigeria